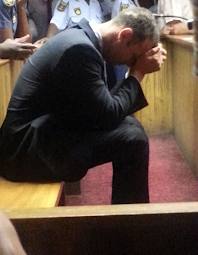 Oscar Pistorius has been named the Spar Athletics Gauteng North (AGN) Track and Field Male Athlete of the Year .
The 26-year-old, who has been arrested for the alleged murder of his girlfriend, Reeva Steenkamp, had capped his domestic season at the fastest runner in the 400m with a time of 45.20 seconds.
Also, he had a storming debut at the Olympics and successfully defended his 400m title at the Paralympic Games, both events in London.
His agent, Peet van Zyl, said over the weekend that Pistorius' races have been canned for him to concentrate on defending himself against the murder charge he is facing after the sprinter allegedly shot and killed his girlfriend Reeva Steenkamp last Thursday.
He is due to appear in court for bail application tomorrow.
Meanwhile, Pistorius' Tuks Athletics Club and national teammate teammate Caster Semenya took the honours as the AGN Female Track and Field Athlete of the Year on Saturday.
Semenya, who also bagged the overall AGN Athlete of the Year, defended her national 800m title and went on to win a silver medal in her maiden appearance at the Olympics last year.
Leading road runner Stephen Mokoka also clinched a brace of awards having been voted the best in Cross Country and Road Running.
He also took home the overall AGN Athlete of the Year accolade.
Renowned distance coach, and Semenya's former mentor, Michael Seme was voted Coach of the Year.
Read also :
http://en.africatopsports.com/2013/02/17/family-in-total-shock-of-oscar-pistoriuss-crime-video/
http://en.africatopsports.com/2013/02/17/seria-a-balotelli-sees-himself-improving/