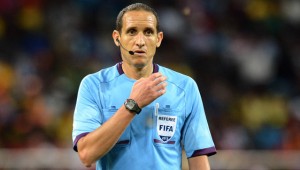 Accused of having a poor performance during the semi-final which opposed  Burkina Faso against Ghana.
Tunisian referee, Slim Jedidi acknowledge the facts: "I was wrong. What else to say? How to explain? I do not know. God willed that I'm wrong here. On the semi-finals, I was not good, I made several mistakes, this is undeniable. I frowned, misinterpreted things. Who can say that he has never made a mistake? I'm sorry for those it touched, I would apologize. But today, I'm trying to move on, to move forward. "
A move that helped Jonathan Pitroipa to play the final against Nigeria.
CAF who gave the opportunity to the Rennes player to play the final , did not sanction the whistle Tunisian "It is just rumors, I have not been suspended and I do not think I will not. During AFCON, i refereed tough matches, including the semi-final which was considered very delicate, it means they trusted me. This confidence has not vanished in a game. I was nominated to officiate at the next World Cup, I stay in contention. That has not changed. "