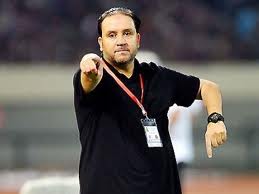 Friday appointed head of the Carthage Eagles to replace Sami Trabelsi, who resigned to a bad result for the AFCON 2013, Nabil Maaloul still waiting for his call technical staff.
At the end of the meeting which was opposed the Club Africain and Jeunesse Sportive de Kairouan accounting for the ninth day, he also followed the new head of the Tunisian said he had contacts with Tunisian coaches operating outside the country.
For the former coach of Esperance, it remains the blessing of the federal office to set up a technical staff: "What remains is not my responsibility, since it is responsible for the FTF to find common ground with them regarding the financial aspect, "concluded Maaloul
For the coach, two physical trainers will be part of his staff.