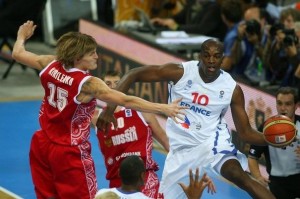 It is in Germany that Ali Traore has finally found a team. The club Alba Berlin this morning confirmed the signing of the French basketball player.
The player of Malian origin was without a club since the termination of his contract with the Russian team, Lokomotic Kuban. Wounded, he has subsequently returned to France where he took advantage of the facilities of the French Federation for treatment.
Besides, his first words after his signature went to FFBB: "I want to thank the French federation for supporting me during my injury by providing me the excellent medical facilities and sports INSEP and structures of Federal Center for basketball. Thanks to that I could get back on foot, "he posted on his Twitter account (@ bomaye12).
Ali Traore, 28, will therefore now hang on his 2m07 floors of BekoBundesliga and Euroleague until the end of the season.