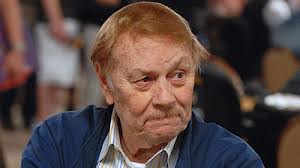 We all knew Jerry Buss had cancer…the owner of the Los Angeles Lakers, died yesterday. Since he bought the team in 1979, he had built a true performance machine, winning 10 titles and reaching the NBA Finals in 16 shots during his 33 seasons with the club head, a staggering rate of 48.5 %.
His children will do more and will head Lakers. His six children and will take the frankness and they do not intend to sell it.
     "The organization is not going to change," said yesterday John Black, the spokesman of the honesty.
"Jerry Buss had everything for the team remains in the hands of the family. In recent years, Jim Buss has led the sporting aspect with our General Manager Mitch Kupchak, and it will continue. Jeanie Buss [Phil Jackson's wife] manages the financial aspect for 15 years, and it will continue. There is no change. "
Read also:
http://en.africatopsports.com/2013/02/15/basketball-the-owner-of-lakers-is-hospitalized/