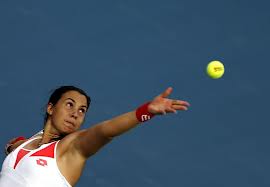 Former Top 10, Marion Bartoli from France outfoxed the Czech star, Klara Zakopalova, in a three-set thriller at the Dubai Duty Free Tennis Championships 2013 on Monday. She summed up a 3-6, 6-4, 6-1 victory against the Czech to power into the second round at this WTA (Women's Tennis Association) Premier event held in Dubai, United Arab Emirates.
The French top ranked star displayed flawless tennis at the Aviation club Tennis Centre. Bartoli was trailing a set and 3-4 when hit back and eventually overpowered the Czech. As a result, the Frenchwoman not only avenged her loss at the Shenzen Open earlier this season but also improved to a 4-3 in the head-to-head series against Zakopalova.
The French wild card entrant was quoted in a courtside interview after bagging this match:
"Honestly I felt I played extremely badly the first set and a half, but I managed to play a lot stronger and turn the match around from 63 43 down. She won just one game after that so the way I was able to turn the match around today, I'm really pleased with that."
The 30-year-old made a convincing entry on the Dubai outdoor hard courts. She drew the first blood in the second game to take the initial lead. Despite losing her serve once, Zakopalova dominated and eventually clicked the opener with a 6-3 win.
Bartoli rebounded in the proceeding set. She was trailing 3-4 when she refocused and not only recovered but also got the breakthrough in the last game, subsequently grabbing the equaliser with a 6-4 win.
The 28-year-old went berserk in the final set. She reeled off last five games and eventually clinched the decider with a breadstick.
Next in queue for Bartoli is the world number one, Serena Williams. She reflected about her next match-up:
"It's the way it is – it's an extremely tough draw. When you come to Dubai, you're not coming to play against someone ranked No.100. You're coming to play the very tough players. And it's going to be a very hard test, but it will show me where I am and where I need to improve."
The American number one is seeded second at this hard court tournament. She received a bye after being the top four seeds here.
Read also :
http://en.africatopsports.com/2013/02/17/tennis-castano-surprise-to-reach-the-semifinals-in-cali/