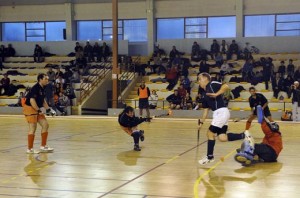 The room hockey team represented Algeria at the 10th World Games 2013 winter olympics Special International (SOI).
The competition was held in PyeongChang in Korea. The Algerian is in his third participation in this tournament.
Fennecs room hockey managed to win a silver medal. Algeria was beaten in the final (2-0) of the competition by another African country, Kenya.
"The selection of Kenya was higher on the physical plane (template). However, the course of our boys was exemplary, losing only two games against eight wins and two draws. They are to be commended, especially as this discipline is still in its infancy here," said Hachefa, the head of the delegation.
Inspired by the Olympics, Special Olympics (not to be confused with the Paralympics) address intellectual disabilities aged 8-80 years.
The emphasis is on individual participationrather than sporting achievement.