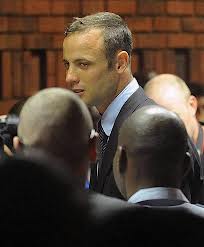 Oscar Pistorius in court Tuesday morning. And the prosecution does not seem to let go in this case that shook the world Olympic week.
The prosecution holds premeditation against Oscar Pistorius who "shot an innocent woman four times and killed" according to the prosecutor Gerrie Nel.
"The victim was hit three times while she was in the toilet" and "the bathroom door was smashed from the outside. We believe that the door was locked, "detailed the prosecutor, noting that" the accused has not given his version of events. "
Lawyers for Oscar Pistorius, it is to prove that the act of the client is not a murder and reclaim his bail.
"There is no evidence any premeditation. All we know is that she locked herself in the bathroom. She was killed in the toilet (…) he thought it was an intruder, "said Barry Roux, one of the lawyers of the athlete. The hearing continues today.
Read also :
http://en.africatopsports.com/2013/02/18/oscar-pistorius-golden-boy-gets-award-while-behind-bars/
http://en.africatopsports.com/2013/02/18/oscar-pistorius-the-manager-cancels-upcoming-races/
http://en.africatopsports.com/2013/02/17/key-evidence-of-a-cricket-bat-friend-oscar-pistorius/
http://en.africatopsports.com/2013/02/17/family-in-total-shock-of-oscar-pistoriuss-crime-video/
http://en.africatopsports.com/2013/02/16/south-africa-pistorius-is-numb-with-shock-arnold-pistorius-uncle/