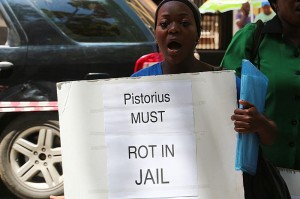 During the hearing continues in the Tribunal of Pretoria, a crowd of women demonstrate outside to get justice.
They brandished placards, posters and leaflets in support of the family Reeva Steenkamp and demand prison for Oscar Pistorius.
As in this image, the protesters demanded life imprisonment for the South African athlete.
On an issue which could lead Pistorius against which the prosecutor requires premeditated murder.
A charge that could earn him life in prison if convicted of the murder of her little day of Valentine's Day.
For now, his lawyers trying to defend him. "There is no evidence any premeditation. All we know is that she locked herself in the bathroom. She was killed in the toilet (…) he thought it was an intruder, "said Barry Roux, one of the lawyers of the athlete.
Read also :
http://en.africatopsports.com/2013/02/19/oscar-pistorius-he-loses-his-glasses-partner/
http://en.africatopsports.com/2013/02/18/oscar-pistorius-golden-boy-gets-award-while-behind-bars/
http://en.africatopsports.com/2013/02/18/oscar-pistorius-the-manager-cancels-upcoming-races/