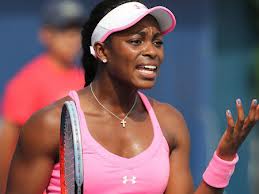 Sloane Stephens lost in the first round of the Dubai Championship on Monday, the latest setback for the rising American star who reached the Australian Open semifinals.
Stephens, who has reached a career high 16th in the rankings since knocking out Serena Williams in Melbourne, lost to Sorana Cirstea of Romania 5-7, 6-3, 6-2.
"It was a rough day, and I think she obviously played some good tennis," Stephens said. "Every match isn't going to go the way you want it, and obviously I got a little frustrated. Things happen, but, I mean, no need to dwell on it."
Eleventh-ranked Marion Bartoli also advanced, coming from a set down to beat Klara Zakopalova of the Czech Republic 3-6, 6-4, 6-1. She was joined by former No. 1 Ana Ivanovic, who overcame a sore right shoulder to beat Anastasia Pavlyuchenkova of Russia 6-3, 7-6 (5).
Laura Robson, the British up-and-comer, was also eliminated, losing to 97th-ranked wild card Yulia Putintseva of Kazakhstan 6-4, 2-6, 7-6 (6).
Last week, the 19-year-old Stephens lost to Zakopalova in the third round of the Qatar Open after wasting two match points. She smashed her racket afterward.
Monday's match was much the same. After winning the first set, Stephens got an early break in the second. But then the Romanian settled down, breaking an increasingly frustrated Stephens twice to win the set. At one point, Stephens let out a scream after a missed shot and then was warned by the chair umpire for racket abuse when she slammed her racket down after hitting a forehand wide to fall behind 5-3.
Cirstea broke Stephens three times in the third to go up 5-2 and finished it off when the American hit a weak return and then a backhand volley long.
"I started the second quite positive and I knew I had to be just a little more careful at the key points if I would turn it around," Cirstea said.
After beating an injured Williams at the Australian Open, Stephens was being billed as the future of American tennis – even though she hasn't yet won a professional tournament.
Some of her recent woes can be blamed on health problems. She pulled out of the Fed Cup against Italy this month after aggravating an abdominal muscle injury and picking up a stomach virus.
Still, Stephens said little has changed from Australia and she hasn't let all the hype get the best of her.
"Obviously it's really tough week in and week out playing perfect tennis and just really being able to execute," Stephens said. "Some days you're going to be on the court and it's not just going to turn out the way you want. Like today, I didn't play my best tennis, and last week I didn't play my best tennis, but you just kind of got to move on."
The 18-year-old Putintseva broke into the top 100 just this month. Down 5-2 in the third set, the 43rd-ranked Robson rallied to force a tiebreaker, but Putintseva finally clinched the victory when Robson hit a return wide.
"I think in general it was a frustrating match," Robson said. "It was just annoying for me, because I feel like I have been practicing a little bit better this week, and to come out on court and just feel very, very defensive the majority of the match is really disappointing."
Read also :
http://en.africatopsports.com/2013/02/17/tennis-castano-surprise-to-reach-the-semifinals-in-cali/