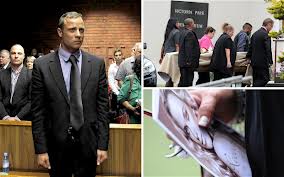 According to sabc, investigating officer in the Oscar Pistorius murder case, Hilton Botha, has earlier on told the court that he believes Oscar Pistorius is a flight risk following Reeva Steenkamp's death on Valentine's Day.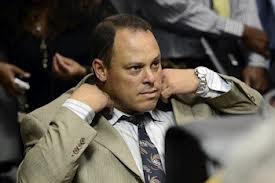 Hilton Botha was the first witness to testify on behalf of the state. He continued to say that he arrived in Pistorius's house at 4:15am on Valentine's morning. The young lady (Reeva Steenkamp) was already dead, wearing shorts, a black vest and she was covered in towels.
The state has however said it will call on a witness who claimed to have heard arguments from both parties prior to the murder (shooting).
Pistorius was in an emotional state as Botha relates events of that fateful morning.
Source: sabc
Read also:
http://en.africatopsports.com/2013/02/19/oscar-pistorius-first-day-of-hearing-video/
http://en.africatopsports.com/2013/02/19/south-africa-the-protesters-demanded-life-imprisonment-for-pistorius/
http://en.africatopsports.com/2013/02/18/reeva-steenkamp-there-is-no-hatred-in-our-hearts-her-parents-speak/