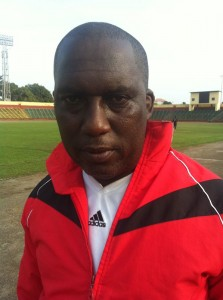 The coach of AC Horoya Conakry, the defending champion in Guinea, is deployable on a chair. Indeed, nothing goes almost between Kanfory Lappé Bangoura and the supporters. Reasons, the recent underperformance against the club on the outskirts of Conakry.
The coach Kanfory Lappé Bangoura first had trouble with his supporters at the end of the sixth day of the Ligue 1 football club when he leads the Horoya AC which conceded the goalless draw against FC Sequence Dixinn club of which he is the founding president in Conakry.
The fans have screamed for early arrangement for not understanding how the leader in the standings with 14 points to share the points with the penultimate of the championship.
Some fans went as far as to say their nonsense to the coach, who has yet given two successive titles of champions of Guinea to the red and white from the suburbs of Conakry.
Questioned, Bangoura Lappé told that while some believe that another coach can do better than him at the head of Horoya AC Conakry, leaders are free to thank him.
The second disappointment occurred in the first leg of the preliminary league where the African Champions Horoya AC shared the points at home with the Ivorian Sewe Sports de San Pedro (0-0).
At the end of the match, Kanfory Lapé Bangoura said he was disappointed by the performance of his foals to the press. "I did not recognize my team. I was really disappointed. We saw a team without a soul. We saw a team complexed "he announced at a press conference at the Stadium of Conakry.
Many are the supporters who say they are waiting for  Bangoura Lappé at the next leg of the preliminary league of African champions clubs, which will take place in early March on the Ivorian soil.