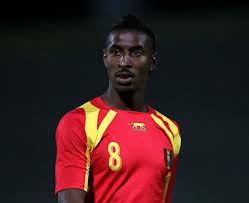 The Guinean media praised the good performance of its compatriot, Kevin Constant, in the first leg of the knockout stages of the Champions League of football, where his Italian club AC Milan defeated Wednesday night at home in San Siro, the Spaniards FC Barcelona by 2 goals to 0.
In the wake of this victory, the Guinean media commented the performance of Kevin Constant, who has yet announced his withdrawal in the national football team, the Syli of Guinea.
According to Segah Diallo, the head of the weekly,sports FootMag, Kevin Constant has produced an outstanding game and breathtaking. "Overall, he was top-notch and present everywhere," he said.
As to Lamine Cissé Djigui FM radio, he said he was proud of the performance of his compatriot. "He has held for 95 minutes in AC Milan in the second round against FC Barcelona. In addition, he was able to hold the world's best player, Lionel Messi, "he said.
Continuing, the brother adds that Kevin Constant is the pride of Guinean supporters even though he abandoned the ranks of the national team. "Unlike his elders Titi Camara, Pascal Feindouno, Ismael Bangoura and Dian Bobo Balde, Kevin Constant is the only Guinean to have played the second round of the League in a big club like Milan," he announced.
For his part, Lamine Bah editor of Radio Nostalgie FM acknowledged that Kevin Constant has released a great game. "AC Milan beat Barcelona but Kevin gave a correct match. He was equal to himself. It was not obvious at the outset, it is true, but he was not taken aback by Messi. Overall, I think he had a good game, "he said.
Kevin Constant is an international footballer of Guinean origin. He donned the jersey Guinean international competitions before withdrawing to devote himself entirely to his club.
After his return to the selection after lengthy negotiations, he slammed the door again because of internal strife and difficulties related to his integration within the group of Syli.
Today, with his performance, Guineans want eagerly want his return, while the national team is rebuilding with the departure of former waterfalls and the arrival of new ones.