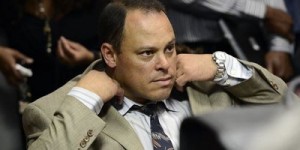 We announced the indictment of the investigator in charge of the case for Oscar Pistorius seven attempted murders. According to the radio over by EWN 24matins.fr, Hilton Botha would be removed from the case.
Hearing this Thursday (started at 10am GMT) was suspended for 15 minutes by Judge Desmond Nair.
The latter wanted to interrogate Hilton Botha. This new twist in the case Pistorius will be exploited by the defense Pistorius continues to plead for bail of South African athlete.
Gerrie Nel prosecutor said this morning ignore the charges against the principal investigator.
Read also :
http://en.africatopsports.com/2013/02/21/south-africa-pistorius-and-detective-hilton-botha-face-murder-charges/
http://en.africatopsports.com/2013/02/20/south-africa-witness-heard-non-stop-shouting-prior-to-reeva-steenkamps-death/
http://en.africatopsports.com/2013/02/20/south-africa-pistorius-is-a-flight-risk-hilton-botha/