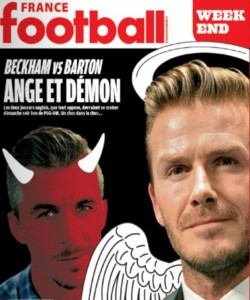 David Beckham has won over everyone. Journalists in France are gleefully rubbing their hands in the hope PSG's new deity will put Joey Barton in his place.
Thursday's France Football features Angel and Demon, depicting Barton as a cheap, camp-looking Satanic creature, cowering behind a winged Beck. France needs an English hero.
How France sees the big Beckham v Barton clash as Golden balls prepares to make PSG debut in Le Classique.