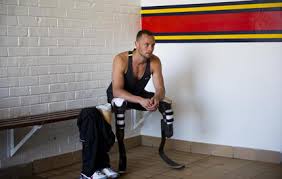 The Golden boy' disability does not make him different from anyone else accused of a crime, prosecutor Gerrie Nel said at the athlete's bail application in the Pretoria Magistrate's Court on Friday.
"The fact that he has prostheses does not make him different. If somebody with a disability commits a crime, we don't see it differently," he said.
"If this applicant can live in South Africa with his prostheses, he can live anywhere," he said.
Nel was repeating that he thought Pistorius was a flight risk while Pistorius' lawyers said he is far too famous to pose any sort of flight risk.
He had not admitted he "used" a house in Italy, after this was revealed in a magazine article.
The court had heard argument on Thursday over whether he owned the house or not, as the State used this as evidence of him being a flight risk.
Magistrate Desmond Nair said that if a person used prostheses and was looked for everywhere, they would have to keep this hidden, by wearing trousers for example.
"We say the court should refuse bail," said Nel.
The new investigating officer, Lt-Gen Vineshkumar Moonoo, in the case made a brief appearance in the Pretoria Magistrate's Court.
Read also :
http://en.africatopsports.com/2013/02/22/pistorius-case-vinesh-monoo-the-new-investigator-named/
http://en.africatopsports.com/2013/02/21/south-africa-oscar-pistorius-in-court-video/
http://en.africatopsports.com/2013/02/21/image-of-the-day-an-all-white-green/