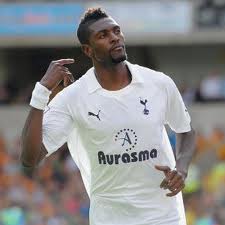 Emmanuel Adebayor the Togolese striker has talked for the first time about the chaos that followed Togo's exit from the Africa Cup of Nations earlier this month, which delayed his return to Tottenham Hotspur and has compounded what he describes as "one of the toughest seasons of my whole life."
His domestic season was interrupted further by the Africa Cup of Nations, when he answered a personal plea from the president of Togo to lead the country in South Africa.
The fotballer however after failing to report to his international club side was persuaded as the team chartered a private jet for his depature from Togo on Friday at about 6pm (GMT) and has been fined for reporting late but this was what he had to say;
"When I was at Arsenal, my job was to score goals for them but now I'm at Tottenham and I have to help the team finish in the top four," Adebayor said. "We have a big chance this season to finish on top of them and we have to take it.
"You know what happened at the end of a tough race last season [when Tottenham missed out on the Champions League] and we don't want to commit the same mistake. It's getting better every season at Tottenham and we have to find a way, especially me. It's a big opportunity for me to show people I was right to leave Arsenal, which means finishing on top of them. If that's with Tottenham, it's even better."
"We'd made history by reaching the quarter-finals and I cannot just jump on the plane and come back to my club, because the president of the country wanted to see us," Adebayor said. "I am the captain so I have to be there. Financially I can get a private jet and come back to London [from South Africa] but I could not abandon my team. As captain it's not a good example.
"In South Africa there were no planes to go back home [to Togo]. We went out on the Sunday, then we were trying to find a plane to go to Togo and [after that], go back to London. It took us four days to get a plane. That's not my fault. I can't do anything. I [couldn't] just put something on my body and fly back. When we did get to Togo, the next flight that the club sent for me, I was on it.
"Togo is not Ivory Coast. When they went out of the tournament [on the same day], the president of the federation sent them a plane to get back. In Togo you all know the story. It's not the same."
Adebayor cannot suppress his frustration at the Togolese federation. "I've spoken already about the organisation and I didn't want to go to the tournament because of it," he said. "The president of the country convinced me to go and I was happy to be the captain and everybody was proud of us. But as soon as we were out, the same things happen – organization. There was nothing organized to take us back home.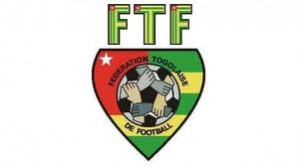 "I had to call the president of the country on my own to tell him that we had to go (from South Africa). He told us to get to the airport at 4pm on Thursday. We did and then we stayed at the airport for more than 10, 12 hours.
"I think people recognize now that, with a little more organization, we can achieve something. That's what I've said for the last 10 years. You have to concentrate on football but that's not the case with Togo. You have to concentrate on: 'What am I going to eat today? Where am I going to sleep?"
"I'm not going to blame it on anybody, I'm going to blame it on myself, because I know I can do better and a lot of people who know me are expecting better," Adebayor said. "But I'm a human being, I've got blood running through my veins like everyone else. You reach a point where you are tired. But I'm getting back to my best. Physically I'm looking better and, when I'm good physically, I know the rest will follow."
"I get a tough time but I have to keep going because (it) could have been worse," he said. "I've seen people dying in front of me; I've seen people with guns in front of me. I've also had 30,000 people abusing me (in stadiums). I take it as part of life. It's true that sometimes, you hear things and think: 'It's a tough one,' but when I go home to my wife and little daughter, they put a smile on my face. They are the only people who make me happy."
Read also:
http://en.africatopsports.com/2013/02/11/premier-league-emmanuel-adebayor-cops-160000-fine-for-the-delay/
http://en.africatopsports.com/2013/02/20/afcon-2013-togolese-delegation-finally-in-possession-of-all-its-luggage/
http://en.africatopsports.com/2013/02/21/europa-league-players-afros-to-follow-lyon-tottenham/