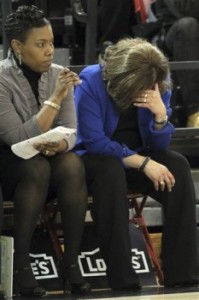 C. Vivian Stringer is getting tired of talking about 900 wins. She knows it will come eventually.
Nadirah McKenith scored 21 points and Briana Brown added 13 to lead St. John's to a 61-48 win over Rutgers on Saturday, denying Stringer her 900th victory.
Stringer, a Hall of Famer in her 42nd season as a head coach, is seeking to become the fourth women's coach to reach 900 wins. She'll join the elite group of Pat Summitt, Jody Conradt and Sylvia Hatchell, who reached the mark on Feb. 7. Only three Division I men's coaches have reached 900 victories — Mike Krzyzewski, Bob Knight and Jim Boeheim.
"I'm going to get it before I die," Stringer said. "That much you can count on. I'm tired of talking about it. I think our kids are trying to survive. I talked with Sylvia Hatchell. She called me the other day. She said it was really stressful."
The Scarlet Knights (14-12, 5-8 Big East) have lost four straight since Stringer earned her 899th win against Cincinnati. Rutgers' 10-year streak of NCAA tournament appearances is in jeopardy, too.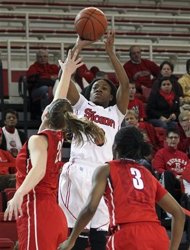 The Scarlet Knights, with nine underclassmen on the roster, are having a rare down year. Stringer's next chance at 900 will come Tuesday night at home against South Florida.
St. John's run continued in the second half, scoring eight of the first 11 points to seal the victory. The lead ballooned to 22 before Rutgers closed to 51-38 with 8:17 left. The Scarlet Knights could get no closer, falling to the Red Storm for the sixth straight time.
The last time these two teams played, Rutgers trailed by 15 with 4:05 left and used a 15-2 run to get back in the game. The Scarlet Knights couldn't muster a similar run on Saturday.
Rutgers once again was missing senior forward Chelsey Lee, who is sidelined indefinitely with a right knee injury. She missed last season with a shoulder injury.
Read also:
http://en.africatopsports.com/2013/02/21/basketball-diana-has-been-chosen-for-female-athlete-of-the-year/