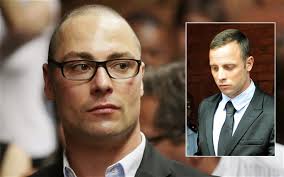 The death of Reeva Steenkamp has gone a long way into bringing out some truth the world should know finally after the bail of Oscar Pistorius on Friday.
From Oscar, to Investigative Officer and then now Carl, Oscar's brother.
Carl Pistorius is facing a trail in connection with the death of a woman during a 2010 car crash issue.
Local media reports suggest that the issue had just popped out and so he is expected to face trail next month. Carl is however been charged with culpable homicide his lawyer revealed as an accident involving his car and a motorcycle in Vanderbijl park.
Read also:
http://en.africatopsports.com/2013/02/23/oscar-pistorius-says-thank-you/
http://en.africatopsports.com/2013/02/22/carl-pistorius-oscars-brother-im-relieved-but-there-is-still-a-long-way-to-go/