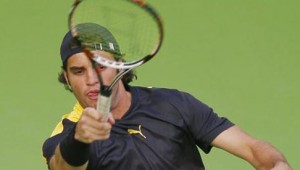 The tournament beginning Monday Jaziri confesses that his first round rendezvous with Roger Federer at the Dubai Duty Free Tennis Championships on Monday night is a dream match-up.
Jaziri, who peaked at No69 in the world last year but has slipped to No130 through injury, has been handed a wildcard to the Dubai tournament.
The 29-year-old has not played a match since last October, having suffered a left knee injury, and the Tunisian's first test upon return will be against the greatest player of all-time, Federer.
Still Jaziri, who spoke to Sport360° after a cheerful practice session on Centre Court, says he's ready to put up a fight.
"Getting to face a true tennis legend is something that makes me extremely happy," said the North African, who will make his Dubai main draw debut.
"This is my first tournament coming back from an injury and to be honest I'm not at my best level but this match against Federer will hopefully give me confidence moving forward and insha'Allah my first event back will be a successful one.
"My knee is better but I'm not at the top of my game. I've been practicing gradually but either way I'm ready to fight for every single point and do the best that I can."
Jaziri has never played Federer before but he previously experienced some tough challenges on the big stage, having played Mardy Fish on Louis Armstrong Stadium at the US Open, and John Isner last year at the Olympics. He was also two points from beating Jo-Wilfried Tsonga in Doha a couple of years ago.
His best showing to date on the ATP circuit is a semi-final appearance in Moscow last season, where he beat Viktor Troicki en route, before falling to eventual champion Andreas Seppi.
When asked if he was intimidated at all by the prospect of facing Federer, Jaziri said: "No I'm not intimidated at all. Today was my first hit on Centre Court and I've had a good first impression of the surface.
"As you can see, no stress, no pressure. I will give my best, try and serve well and try to win."
Meanwhile, Federer admits he will have to do some research on his opponent, but is excited to play an Arab player here in the Middle East and is expecting an electric atmosphere.
Federer said: "I've never played with him in practice or in a match so this is the first time I'm going to be hitting balls with him.
"I know he's a good player. People might think 'okay, he's a wildcard, it's an easy draw'. But I think it's always tricky, particularly that I don't know exactly his pattern, his favourite shots, I still need to listen around a little bit, speak to some friends and have my coach do some scouting and then I'll be ready for my match.
"I'm looking forward to it, I'm sure it's always a big match here in the Middle East playing someone like him. And first rounds always create some pressure, I want to start well and I'm the defending champion."