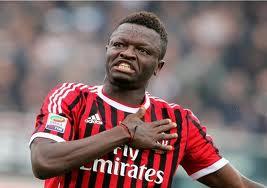 Sulley Muntari, the Ghanaian midfielder has expressed his satisfaction with the performance of Mario Balotelli since his transfer from Manchester to Ac Milan and has expressed his disappointment after Ac Milan had a draw with Inter in a game Rossoneri dominated and where lots of chances were created.
"Balotelli has changed a lot since he was at Inter. He's more mature and you could see that today despite the pressure he was under and the difficulty of the moment. It's just a shame he didn't score."
"Against Barcelona we really gave all we had and we deserved to win. It's a shame that this evening we only got a draw. We should have won for ourselves and for our fans."
Muntari also showed gratitude to coach Massimiliano for bringing back the team to form and that he had rediscovered his passion.
"This jersey is already a part of me, it's in my blood. The coach helps us take to the field with the right attitude and we're much focused. We want to continue on the road that we're on. "
During midweek Milan would face fellow Champions Lazio.
Read also:
http://en.africatopsports.com/2013/02/22/champions-league-muntaris-most-important-career-goal/
http://en.africatopsports.com/2013/02/21/champions-league-africans-deliver-milan/