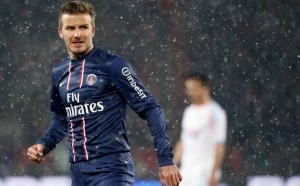 37-year-old English footballer David Beckham made his debut for French club Paris Saint –Germaine on Sunday night 24th February coming on as a substitute after a welcoming introduction held on his behalf amidst spectators and fans with shouts as he runs unto the field of the princes' .
He however came with much skills as always expected of him and impressed a lot helping his team with a pass to Zlatan Ibrahimovic  who scored thye second goal winning Marsielle in Le Clasique with 2 – 0 victory.
Amidst all about Beckham, heer is how some French papers described him;
Le Parisien: A chorus of praise after the premiere of David Beckham. Almost three months after his last match, the Englishman participated in the last 15 minutes of the game when victory was still far from being achieved, arriving in the snow like a Christmas story. From his first ball in Paris, Professor Beckham played accurate passes, seeking Lavezzi and Ibrahimovic. He then focused on his defensive duties.
Le Figaro: The history books will remember that on February 24, in the coldness of the Parc des Princes, David Beckham, the most famous footballer on the planet, made his debut in the jersey of Paris Saint-Germain. Arriving on the last day of the winter transfer window, the Englishman waited more than three weeks before first wearing the red and blue. He was the attraction of the evening. Followed by a special camera on Canal + (the "Beck'cam"), flashed by a swarm of photographers when he sat on the bench in Paris, the former Manchester United and Real Madrid star eclipsed the pre-kick-off appearance of Ronaldo.
L'Equipe: Presented and cheered by the Parc des Princes a few minutes before kick-off to the tune of Hey Jude by the Beatles, the [former] England midfielder had to wait until the 76th minute to become the 400th player in the history of PSG wearing the red and blue. Beckham, in the space of 15 minutes, showed that he was not just a marketing coup for PSG, involved in the second goal scored by Zlatan Ibrahimovic.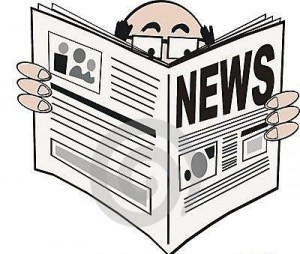 Le Monde: Under the snow, the British star made his debut, having started on the bench. The new star of PSG did not have the opportunity to make a lot of passes but he still participated in the action that led to the second goal. The Spice Boy took credit for the Parisians by diverting some media attention away from their lackluster performance on the pitch.
France Football: David Beckham enjoyed his debut with PSG against Marseille. The England midfielder spoke of "a very special evening", although he acknowledged that he was "a little nervous" about his first ball after waiting 75 minutes on the bench.
PSG is however David Beckham's sixth team he has been on transfer for.
Read also:
http://en.africatopsports.com/2013/02/21/ligue-1-dede-ayew-compares-beckhams-fashion-to-football/
http://en.africatopsports.com/2013/02/25/david-beckham-it-was-hard-to-get-back-in-shape-but-i-feel-good/