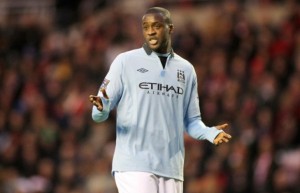 Undisputed holder at Manchester City, Yaya Toure has the confidence of its leaders. His contract with the Citizens expires in June 2015, but the leaders of the club do not count reaching the end of its lease before offering him an extension.
The former Barcelona player who played 23 games as the holder should receive a pay rise in case of a new commitment.
According to the Daily Star, the leaders of the club could offer a lease whopping Yaya in the coming days for an extension up to 2018 with an annual salary of approximately 12.5 million. The midfielder who is comfortable in the Premier League is far from saying no to this new offering from its leaders.
He even said "happy to be in this league." It therefore does not envisage a change of scenery during the summer transfer window to come. "I want to continue here for a long time. I always want to stay. '
"Yaya is a very important player for Manchester City," said the Italian technician.
Yaya Touré, often makes the difference when the attacks are fast speed. He is the son of Bouaké, and the one who put his club on track for victory against Chelsea this Sunday's game in the Premier League clash (2-0).