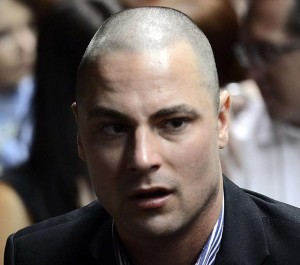 Everyone asks … What happens to Pistorius family, accused of murdering his girlfriend Reeva Steenkamp, was rocked again on Sunday when it was revealed that the athlete's brother has been charged with culpable homicide.
In the latest twist to the South African soap opera that has gripped millions, Carl Pistorius, a near-constant presence at his younger sibling's bail hearing, appeared before a judge himself last week.
The charge relates to the road death of a female motorcyclist in 2008. Carl denies causing the accident or being under the influence of alcohol.
A Pistorius family statement said Carl appeared before a judge last Thursday and would be in court again in late March. He declined to comment on Sunday as he entered the home of his uncle Arnold in Waterkloof, an affluent suburb of Pretoria.
The house is where Oscar Pistorius, 26, has been staying since being granted bail on Friday ahead of his trial for the murder of Steenkamp.
Kenny Oldwage, the brothers' lawyer, said Carl had been involved in a car accident "in which a woman motorcyclist sadly lost her life".
"There is no doubt that Carl is innocent and the charge will be challenged in court. Carl deeply regrets the accident."
He added: "Blood tests conducted by the police at the time proved that he had not been under the influence of alcohol, confirming that it was a tragic road accident after the deceased collided with Carl's car."
The family said the charge against Carl had at one stage been withdrawn but has been reinstated five years after the incident. This echoes the attempted murder charges against Hilton Botha, former lead detective on the Oscar Pistorius case, which were resurrected on the day he gave evidence in court.
Carl, younger sister Aimee and father Henke spent the bail hearing sitting behind Oscar in the dock, at times leaning forward to offer a comforting hand. The family huddled in a prayer when it was announced Oscar would be released.
On Saturday, the family moved to lower its social media profile after Carl's Twitter account was hacked and a fake message posted. They shut down all Carl and Aimee's social media sites.
The three-floor house where Pistorius is staying with his aunt and uncle sits on a hill with a sweeping view of Pretoria. It has an immaculately kept garden and swimming pool.
But one man who has not been there to share the Olympian and Paralympian's first respite from a police cell is his father. Henke went away for the weekend "with no reception, no TV, no nothing" and would take several hours to get back to Pretoria, he told the Guardian.
Asked about the charge against Carl, he said: "I don't know anything about it."
Henke has previously been described as an absentee father. Oscar told the Guardian in a 2011 interview: "We chat about once a month. He's a cool guy but he's more of a mate. He's not much of a parent. It's just life."
There are also signs of tension between the Pistorius and Steenkamp camps. On Sunday a representative of the Pistorius family said they sent two bouquets of flowers to Steenkamp's family the day before her funeral. She said one was from Oscar and the other from the Pistorius family and both had handwritten notes.
Steenkamp's mother June confirmed she had received the flowers. "But what does it mean?" she asked. "Nothing."
Meanwhile, a man who describes himself as Steenkamp's "Joburg father" she was close friends with his daughter and had stayed at their home since September gave an unflattering portrayal of the athlete.
Asked what Oscar was like, Cecil Myers told South Africa's City Press newspaper: "Moody, I think. Very nice and charming to us when they started dating. Then he always came in to say hello. But when they began to date steadily, he just dropped her and picked her up. That's not right. I call it respect. If you're in a relationship and you pick up the 'daughter' in the house, at least come in and say hello."
Myers recalled their first date and told the newspaper: "After that he wouldn't leave her alone. He kept pestering her, phoning and phoning and phoning her."
According to Myers, Steenkamp "told me he pushed her a bit into a corner. She felt caged in. I told her I would talk to him. I told him not to force himself on her. Back off. He agreed, but his face showed me what he was thinking: 'Oh, this guy is talking nonsense.'
"He did cool down a bit. Then they started going out steadily, and she was more at his home. I once talked to her about Oscar's moodiness. She didn't answer me."
Asked if he worried about Steenkamp spending time with the star, Myers replied: "My answer to that is 'no comment', and that's probably enough of an answer. There's a dark side to him. And all we're left with now is a huge emptiness."
He also told City Press: "Whatever happens, whether he goes to jail or not he can rot in hell, Myers said. His conscience will get the better of him … I hope he gets a long sentence. Gets what he deserves."
Oscar's uncle Arnold has said the double-amputee runner intends to contact Steenkamp's family and move beyond any ill-feeling.
Some believe this is premature. Hagen Engler, a former FHM editor who had known Steenkamp since she was a teenager, said: "It would involve really owning this killing. I don't think he's quite done that. He seems to think he's not really to blame.
"It clearly is his fault and he needs to own it and feel the guilt and do something to make up for it. He needs to go back to a position of humility and seek forgiveness."
Read also :
http://en.africatopsports.com/2013/02/25/south-africa-oscar-pistorius-at-the-police-station/
http://en.africatopsports.com/2013/02/24/south-africa-oscar-pistorius-uses-testosterone-to-boost-his-libido/