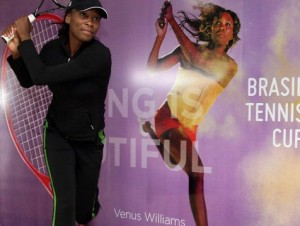 Seven-time Grand Slam champion and former No.1 Venus Williams landed in Florianopolis last week and is all set to go at the WTA Brasil Tennis Cup – she also returned to the Top 20 on Monday.
The WTA Brasil Tennis Cup kicked off on Sunday and things will heat up even more Monday night as the tournament's No.1 seed, Venus Williams, plays her first round match.
Williams made an exceptional comeback from a seven-month illness lay-off last year, rejoining the tour in mid-March ranked No.134 and making it all the way back to No.24 on the year-end rankings in November – and so far this year she has climbed just a little bit further up those rankings, this week inching up to No.20 in the world, her first time inside the Top 20 since the week of May 9, 2011.
A seven-time Grand Slam champion and former World No.1, Williams has already hit the practice courts in Florianopolis and spoke about her upcoming debut in Brazil – watch it all right here.
[youtube]http://www.youtube.com/watch?v=VU0VQeBKRzU&feature=player_embedded[/youtube]
[youtube]http://www.youtube.com/watch?v=-9Kqnr65ShI&feature=player_embedded[/youtube]
Read also:
http://en.africatopsports.com/2013/02/25/tennis-andy-murray-buys-hotel/