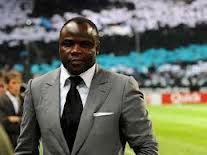 Wednesday, I'll be sure to follow at the Parc des Princes the knockout against Paris Saint-Germain to Marseille in the Coupe de France.
I hope that this time, OM takes its revenge! Not a second defeat on guys! I also hope that luck will smile more for the Phoenicians. Because yesterday, the PSG has been far from convincing, Beckham and the Zlatan were really winnable …
As if I've always said since the beginning of the season that OM should change its direction, so I'm sure Tapie My President – I always call like that … will help the club to find sponsors in order to have all his ambitions next season, I hope the draw of the quarterfinals of the Coupe de France will be favorable to the club.
I will do it at the end of the match with the host Nathalie Simon!
Go Marseille, I have a happy hand, I promise, but you should qualify!
Basile Boli. 25.2/2013
Read also
http://en.africatopsports.com/2013/02/24/the-ticket-of-basile-boli-tapie-relaunches-the-om/