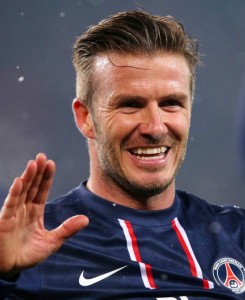 This is what has just confirmed the coach Carlo Ancelotti during a press conference pre-game. As glimpsed after the first Classico played Sunday (PSG win 2-0), David Beckham will play his first as a holder under the colors of Paris Saint-Germain. He particularly benefits from the suspension of the Italian Marco Verratti.
Ancelotti has also found that the English had 90 minutes in the legs. Note that Mamadou Sakho, missing the last weekend, has been declared fit.
Sunday, Beckham has participated in 16 minutes to the win of PSG on the OM. The time to participate in the construction of the second goal from Zlatan Ibrahimovic. The loser wants revenge on Wednesday in Coupe de France.
To follow…
Read also :
http://en.africatopsports.com/2013/02/25/david-beckham-it-was-hard-to-get-back-in-shape-but-i-feel-good/
http://en.africatopsports.com/2013/02/22/image-of-the-day-angel-against-devil-or-beckham-against-barton/