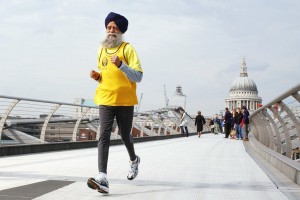 Fauja Singh was born on 1st April, 1911, in Beas Pind, Jalandhar, Punjab, British India the youngest of four children. Fauja did not develop the ability to walk until he was five years old. His legs were tin and weak, and he could hardly walk long distances. Due to this, he was often teased, and had to carry the nicknamed "danda" for the next ten years. But he gave all up and returned to the farming without knowing that he will one day become an avid amateur runner. Fauja discovered this after the death of his family which is his wife and children in 1994, 1992 and 1995.
This is "marvelous" at his age of 89 years, he took running seriously and it has ended him up in international marathon event.
Fauja Singh is a British centenarian marathon runner of Punjabi Sikh descent. He is a world record holder in his age bracket. His current personal best time for the London Marathon 2003 is 6 hours 2 minutes and his marathon record, for age 90-plus, is 5 hours 40 minutes, at the age of 92, at the 2003 Toronto Waterfront Marathon.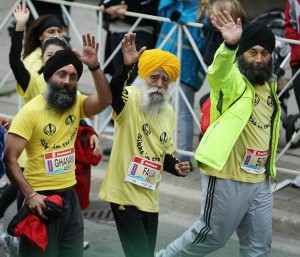 In his first training at Redbridge, Essex, he dressed in a three piece suit in which the coach had to rework everything, including his attire. Singh ran his first race, at the London Marathon, in 2000.
He is the eldest of a group of Sikhs who call themselves "Sikhs in the City," formed over 10 years ago. There are three other Sikhs, aged 79, 79, and 80, in the "Golden Oldies" Team, which ran the Edinburgh Marathon relay in 2009.
"I won't stop running until I die. The next target, God willing is to be the oldest marathon runner ever."
In 2004, Singh was featured in an advertising campaign for sportswear manufacture Adidas alongside David Beckham and Muhammad Ali.
Singh holds UK records for the 200m, 400m, 800m, miles and 3000m for his age group, records all set within a single 94 minute period. At the age of 100 and a half, Singh attempted and accomplish eight world age group records in one day, at the special Ontario Masters Association Fauja Singh Invitational Meet, held at Birchmount Stadium in Toronto, Ontario Canada.
[youtube]http://www.youtube.com/watch?v=2aTesY-JyS8[/youtube]
Read also:
http://en.africatopsports.com/2013/02/24/the-unusual-of-basile-boli-he-runs-the-marathon-at-101-years-old/