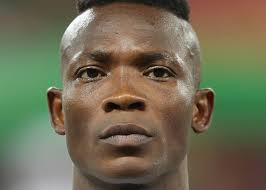 One would say what's happening to the Ghanaian deputy striker John Paintsil over the past 5 days, from assaulting wife and hospitalization?
However, reports have it that the player suffered from exhaustion and dehydration on Tuesday morning and was rushed to the Accra 37 Military hospital.
It's also has it that the footballer had received medical care and has been released to go home to continue with treatment.
The incident comes after Paintsil was arrested last friday after reportedly assaulting his wife and a neighbour.
"The past five days have taken a severe emotional toll on the Paintsil family," said a spokesman for the player.
"And that toll manifested itself in the unfortunate incident this morning."
Paintsil spent the night in prison on Friday and was released on bail Saturday after he was detained over allegations that he stabbed his wife.
He is accused of stabbing his wife in the upper eyelid. She was taken to hospital, but has now been released.
Read also:
http://en.africatopsports.com/2013/02/26/ghana-defender-john-paintsil-in-hospital/
http://en.africatopsports.com/2013/02/25/ghana-paintsils-pr-rebukes-of-police-report/
http://en.africatopsports.com/2013/02/25/ghana-police-deny-allegation-regarding-john-paintsil/
http://en.africatopsports.com/2013/02/24/ghana-pantsil-boosts-satellites-to-win/
http://en.africatopsports.com/2013/02/23/ghana-john-paintsil-out-of-police-grips-wife-denies-stabbing/
http://en.africatopsports.com/2013/02/22/ghana-john-paintsil-arrested-for-assault-and-causing-harm-to-wife-2/