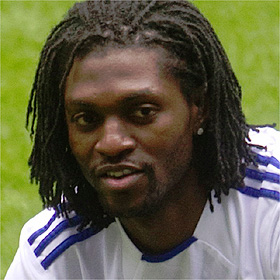 Born in Togo to Nigerian parents of the Yoruba ethnic group, he began his career in his homeland playing for Sporting Club de Lomé. He made it to the U-15 level, and was spotted by French club Metz. After a trial, Adebayor joined the club in 1999 and played at the U-17 level for two years before joining the second team.
In his first season, he played nine games and scored twice. In the 2002–03 seasons, Adebayor scored 17 goals in 35 games. He signed a new contract with Monaco in 2003, and he scored seven goals in 17 appearances, helping them reach the 2004 UEFA Champions League Final with two goals in 10 games.
Today Emmanuel "Sheyi" Adebayor marks another landmark today as a year has been added to his age.
The Tottenham Hotspur star, has achieved a lot from 2002 in his football career till date, born 26th February, 1984 he is today 29-year of age.
His birthday o facebook had 357 comments as at 15:03GMT wishing the star football God's blessings whiles his official facebook said; "Do you remember? It is today the anniversary of Captain ADEBAYOR. For the Occasion, the official Page of ADEBAYOR offers you the possibility to record video messages. Audios… Photos… for him wish. All the dedications will be posted on this PAGE! for you to play. Top departure… "
We at Africa Top Sports wish Emmanuel "Sheyi" Adebayor a happy birthday, long life and prosperity!
Read:
http://en.africatopsports.com/2013/02/21/emmanuel-adebayor-he-can-still-be-the-player-we-saw-last-season/
http://en.africatopsports.com/2013/02/05/adebayor-we-lacked-serious-tactical-choice/
http://en.africatopsports.com/2013/02/06/afcon-2013-he-didnt-help-us-adebayor/
http://en.africatopsports.com/2013/02/21/europa-league-players-afros-to-follow-lyon-tottenham/
http://en.africatopsports.com/2013/02/23/emmaneul-adebayor-blames-togo-federation-fo