On Monday at the Deodoro, the South Africa men's hockey team ran away with a 3-0 win over Chile in their World League Round 2 warm-up match.
South Africa had the lion's share of the first half but were unable to break the deadlock by half-time before cruising in the second period.
The field goals were scored by Julian Hykes in the 40th minute, Pierre de Voux in the 51st and Clint Panther in the 58th.
Charlie Pereira South Africa head coach rested top 'keeper Rassie Pieterse, giving Gowan Jones a start, as well as defender Matt Guise-Brown, meanwhile midfield dynamo Austin Smith was thrust straight into action after flying in Monday morning from club commitments in the Netherlands, while striker Lloyd Norris-Jones was due to arrive from the same country late on Monday night.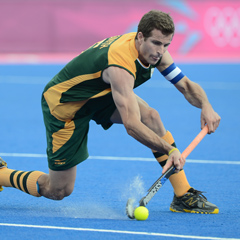 World No 2 25 Chile, who ran World League Round 2 favourites Argentina close in a 3-2 defeat in a South American regional final recently, began well but in the third minute Taine Paton got in a reverse-stick shot after Craig Haley's set-up, the good work having started down the right by Ollie Whiteley.
The top two teams at the conclusion of the Rio round-robin tournament will qualify for one of the two World League men's semi-finals events, which will take place in Rotterdam, Netherlands from June 13 to 23, and in Johor Bahru, Malaysia from June 29-July 7.
Those countries that qualify for the World League semi-finals in the Netherlands and Malaysia will be divided into each eight-team tournament on the basis of their world rankings and the top four in each semi-final event will go through to the eight-team WL finals event  early next year.
Read also:
http://en.africatopsports.com/2013/02/25/hockey-leicester-ladies-ended-their-campaign-in-austria/