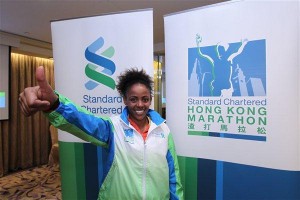 Kenya with men and Ethiopia with women were imperative at the Hong Kong marathon.
The Kenyan Julius Maisei won the men's race. Aged 32, he crossed the finish line in 2h 14'18 ". Maisei beat his compatriot James Mbugua (2h 14'28 ") and the Ethiopian DERIBE Robi (2h 14'37").
In the women Misiker Demissie dominated the race in 2h 30 '49 "at the best time ever in the event.
The first edіtіоn of this mаrаthоn took place in 1997 and linked Hоng Kоng to Shеnzhеn sуmbоlіzing the return of the souvereinity of Hоng Kоng to Chіna and has been put on stage as a transboundary race .
This race had attracted more than 1000 runners. Since then, the race has evolved by attracting 6000 runners in 1998, 30000 runners in 2005 and 60000 in 2010.
Read also:
http://en.africatopsports.com/2013/02/23/athleticskenya-three-face-ban-for-doping/
http://en.africatopsports.com/2013/01/18/houston-marathon-the-ethiopian-victory/