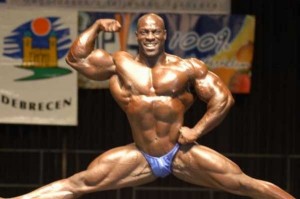 Eddie Abbew has been as consistent on the pro scene as barrage of rude words coming from a Turrets sufferer. Unfortunately for a large portion of his career, that consistency has been an uphill battle to stay within the top ten.
He was born in Ghana and raised in the UK.
Last year on the European tour a glimmer of light shined down on Abbew when he managed to snag a 6th place finish in Austria, a 5th place in Holland, and narrowly missing on an a Olympia qualifying spot in Romania with a 4th position.
However, this wasn't his highest ranking in a Pro show, in 2005 when the Olympia Wild Card showdown was held the day prior to the main event, Eddie finished an impressive third place behind Brian Chamberlain and eventual winner David Henry.