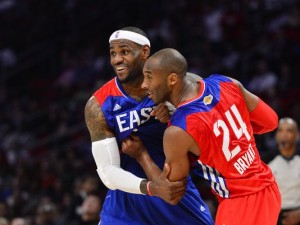 The back of the Los Angeles Lakers Kobe Bryant and winger Miami Heat, LeBron James dominated the NBA last week.
Two of the NBA's best players, LeBron James and Kobe Bryant have been named Eastern and Western Conference Players of the Week.
James led the Heat to a 4-0 week, which included road wins over the Atlanta Hawks, Chicago Bulls and Philadelphia 76ers. He averaged 23.5 points (fifth in the conference), 9.3 assists (second in the conference), 2.25 steals (third in the conference) and 7.8 rebounds. James posted two double-doubles and a 16-point, 11-assist, 10-rebound triple-double on Feb. 23 at Philadelphia as the Heat became the first club in the East to reach 40 wins. At 40-14 (.741), Miami owns a six-game lead in the conference, ahead of the Indiana Pacers (35-21, .625).
Bryant led the Lakers to a 3-0 week, which included wins vs. the Boston Celtics and Portland Trail Blazers. He finished second in the conference in scoring at 31.3 points, and added 7.7 rebounds and 6.0 assists. Bryant closed the week with a 38-point, 12-rebound, seven-assist performance in Dallas, a 103-99 Lakers' win. At 28-29 (.491), the Lakers are 2.5 games behind the Houston Rockets (31-27, .534) for the eighth and final playoff spot in the Western Conference.
Read also :
http://en.africatopsports.com/2013/02/26/nba-denver-too-fast-for-the-lakers/