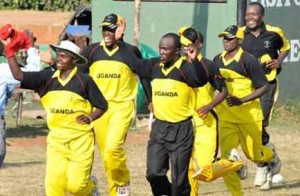 Pepsi ICC Africa Division 1 T20 Championship
Uganda 86 Botswana 59
(Uganda won by 27 runs)
Today at Kyambogo
Uganda v Nigeria (10am)
Lugogo
Tanzania v Kenya
NOW we know Uganda can also survive an ambush. Next – the second round of the Pepsi ICC Africa Division 1 T20 Championship, starting today with Nigeria at Kyambogo.
Charles Waiswa and Brian Masaba delivered decisive performances with bat and ball as Uganda survived a clinical bowling display from Botswana to stay top of the standings.
Waiswa scored a game-best 23 and took 3-11 while Masaba scored 13 before claiming 4-13 to lead Uganda (86 all out in 18.3 over's) to a 27-run win. Untouchable in their first three games, Uganda (who won the toss and opted to bat) were pushed to the ropes by a winless Botswana from the get-go, losing Roger Mukasa on the fourth ball for naught.
By the fifth over, the top-order collapse was official, Uganda reeling at 15-4, then 30-6 in 8.2 overs.
But Frank Nsubuga scored 16 and Deus Muhumuza hit 13 before Waiswa and Masaba pushed Uganda's total to near respectability.
Turns out, it was too far for Botswana, who was all-out for 59 with 2.5 over have to go. For Uganda, though, there was another serious scare when Ronald Semanda was left unconscious after colliding with Masaba in a scramble for catch in the ninth over.
He was rushed to Case Clinic and he had reportedly regained consciousness by press time.
Source: Kawowo