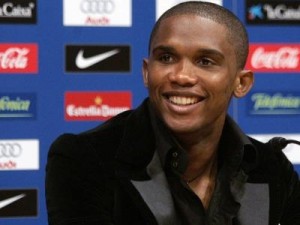 I read this weekend the beautiful interview that my friend Samuel Eto'o granted Africa Top.sports.com. And spent three days in Guinea, where he opened a new training center.
Samuel Eto'o is a real talent scout, and I congratulate him. For now, he knows that he will not win a World Cup with Cameroon, including in 2014 in Brazil. But his wildest dream is to enable African countries to achieve this dream. And I totally agree with his commitment and values.
"Coming in Guinea, for those who know my story, I am convinced that Africa has the potential to win the World Cup tomorrow but that we must have some basis. We have a lot of luck because our moms made us have some talent, while Europeans learn football at football academies. By cons, we, we go to the streets to find ourselves in big stadiums. And I say Congratulations to all the children of Africa. When I had the opportunity to come here, I told myself that I just listen and see why not do tomorrow what I had to do in other African countries, a training center here. I think that if the level of African football increases, we will have more chance of having an African future world champion, and this is my wish. I still have a few years in football, but do not close your eyes, maybe I would not have the chance, I as a footballer, having the World Cup, which is the absolute dream of every footballer and even our younger brothers. So, we must accompany their dream. I think the base, to me, is the most important. "
Nigeria, Côte d'Ivoire, Ghana, Mali showed during Afcon that they became large teams on which it would take in the coming years globally. And I really trust to Samuel to realize his dream which is also ours and mine!
Read also:
http://en.africatopsports.com/2013/02/25/samuel-etoo-touted-by-guardiola/
http://en.africatopsports.com/2013/02/22/samuel-etoo-in-guinea-to-open-a-new-center/