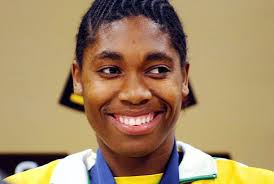 Middle-distance runner Caster Semenya has quashed rumours that she is 4 months pregnant. She openly dismissed the claims in an interview with Sowetan newspaper.
"I heard of that, I am not fazed by such allegations, like I said I am focused on the championships, people can say what they want".
Semenya said: "As a 800m runner the most important thing is speed and that's what my coach (Maria Mutola) and I have been really working on".
This comes after she had to settle for a silver medal at the 2012 Olympic Games in London.
"I will be focusing only on the 800m event; not more or less as many thought" Caster added.
Asked what South Africa must expect of her at the championships, Caster said "Just like the Orlando Pirates and Maluti FET College match, that score (4-1 in favour of Maluti) was unpredictable. So that goes to show that you never know the strength of your opponent. Anything can happen but I am working towards winning".
The rumour started doing rounds when SA comedian Trevor Noah twitted @Trevornoah: "Caster Semenya is pregnant? Man that's fantastic news. We are very proud.Well done Caster..well done!"
The rumours triggered tasteless jokes on social media with many focusing on who the father might be.