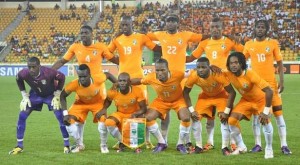 The pre-tournament favourites were knocked out of the Africa Cup of Nations at the quarter-final stage earlier this month, after losing 2-1 to eventual winners Nigeria.
The Ivorians also lost last year's final on penalties, and while the Arsenal forward admits both defeats hit him hard, he remains optimistic for the future.
"I have bad memories about [losing to Nigeria],"
Gervinho told Arsenal.com. "It was one of the worst games the team played, we were not in it. It was a bad match and Nigeria deserved the trophy.
"This one is very painful because we never thought we would get knocked out in the quarter finals. Each year we get disappointed but we learn at the same time.

"I don't have any worries about Ivory Coast football, we have many players playing for big clubs, in big tournaments. There are new recruits with lots of skill, they just need to be trusted. There is a new excellent generation coming and I am not worried about it."