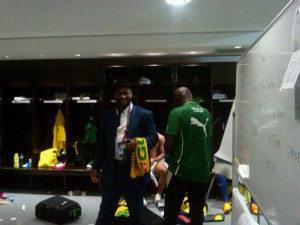 The president of the FTF (Togolese Football Federation) is finally back. This is what we learn from a source close to his staff under the condition of anonymity. Gabriel Améyi is expected in Lomé on Thursday with a well-defined schedule.
A meeting on the outcome of the Afcon 2013 is scheduled for the same day with his executive office. A meeting that day is not yet known is also planned with coach Didier Six to discuss his future.
He had already announced on Monday on the antennas of the Canal + channel his arrival in the capital of Togo in this weekend to submit his report of  the African Cup.
The information returned by the President of Maranatha Fiokpo occurs 24 hours after the announcement of an upcoming visit of FIFA (World Football Federation).
These days, Gabriel Améyi made headlines in Lomé. Illness, hospitalization, flight, future arrest; the boss of Togolese football is not immune to criticism.
Read also:
http://en.africatopsports.com/2013/02/25/togo-where-is-gabriel-ameyi-ftf-president/
http://en.africatopsports.com/2012/12/14/gabriel-ameyi-the-head-of-the-togolese-football-federation-ftf-in-problem-with-fifa/