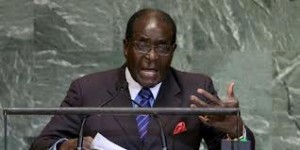 President Robert Bob Mugabe has challenged football administrators to raise the level of the game to enable the nation to participate at grand stages like the Africa Cup of Nations finals.
The president said this when presenting this year's Bob 89 Super Cup competing teams Dynamos and Highlanders with their prizes.
He said that Government hasn't done enough to support sport and had it been that such backing was provided the national team, the Warriors could play better than 2013 Nations Cup finalists Burkina Faso.
Presenting the Bob '89 Super Cup to Dynamos at State House, at an occasion attended by Highlanders, Castle Lager PSL officials and sponsors of the tournament, President Mugabe bemoaned lack of Government support in domestic sport.
"Our soccer should raise itself or we should do something to raise it. I do not know where we are failing when it comes to competitions like the African Cup, let alone the World Cup. I know last time it was in Angola and that big man Manucho did us disservice with those two goals. Let us take our soccer to that level. When I look at other countries' standard of play on television, and comparing with ours, I did not see any difference," President Mugabe said.
The President added that there was nothing extraordinary about the Nations Cup final, pitting Nigeria and Burkina Faso, which he watched at Soccer City in Johannesburg.