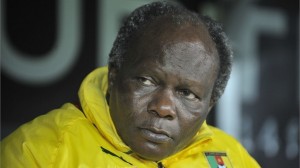 Appointed in September 2012 to replace Denis Lavagne, Cameroonian coach Jean-Paul Akono can't gather the frames of the Cameroon national team around him.
The boycott of the match lost against Tanzania (0-1) on February 06, illustrates the unease among Lions.
According to the Cameroonian press the technician is sitting on a chair ejection.
APANEWS and afriquefoot.fr quotes the French Luis Fernandez and Pierre Lechantre figures as favorites for the position of national coach of the Lions of Cameroon.
Pierre Lechantre knows very well the African continent.
He won with the national team of Cameroon, Africa Cup of Nations in 2000. The technician is also a close friend of influential captain Samuel Eto'o.