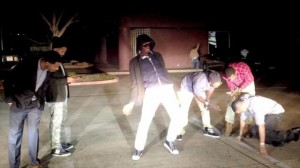 The new thing to imitate in evening, in the streets and videos and on the Internet, it is the Harlem Shake. But what is it that the Harlem Shake?
The "Harlem Shake" is the new dance of the Internet world.
Thousands of people dance in this electro music. A phenomenon that has exploded in just a few days.
A "Harlem shake" is a video showing a group of people, often dressed in costumes, dancing so comical piece on the Harlem shake composer of electronic music Baauer. It is a kind of global carnival, which attracts thousands of revelers.
That's how we can try to define the wave "Harlem Shake" which electrifies the web.
Usain Bolt has succumbed to the fashion of the moment.
The Jamaican sprinter, Olympic champion in the 100m and 200m, is also expanding into the Harlem Shake. The fastest man in the world has made his version of the Harlem Shake.
Discover the video instead:
[youtube]http://www.youtube.com/watch?v=hjMUna3SS7o&feature=player_embedded[/youtube]