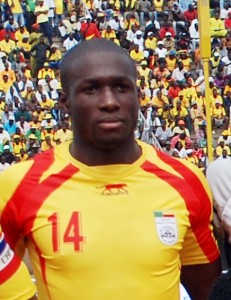 The Squirrels of Benin and the Desert Foxes of Algeria will meet on March 22 in a match counting for the third day (group 8) the World Cup 2014 Playoff.
The Squirrels are top of their group and dream more than ever a first participation in the World.
According to Michael Poté, Benin remains an outsider to the most distinguished nation of the continent, like Algeria and Mali.
The Benin international has expressed his desire to beat Algeria.
Dynamo Dresden striker believes that squirrels can still surprise.
"We managed to get a good start, but the path is still long in Brazil. We are only at the beginning. That said, our team has some talented young players. We always want to give the best of ourselves to our country. "
"Small countries, as we can always create a surprise. Maybe we'll get a win against Algeria, like David against Goliath. We have already proved in the past that we were capable of. "
"Playing for Benin is something very special. We are on the ground to represent the whole country. Everyone has the gaze on you and expect you to do honor to the colors of your country. Hearing the national anthem gives me chills every time. Against Algeria, we know that it will not be easy, but we still hope to achieve something great. "