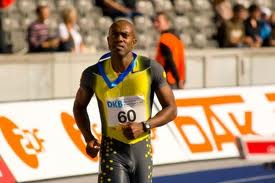 All the Africatopsports's team wishes a very Happy Birthday to Allen Johnson!
Allen Kenneth Johnson (born March 1, 1971) is a retired hurdling athlete and won Olympic Gold in the 110 metre high hurdles at the 1996 games in Atlanta, Georgia. He is also a four time world champion.
Born in Washington, D.C., an all-round athlete, Johnson attended University of North Carolina at Chapel Hill and excelled at high jump, long jump and decathlon as well as hurdles.
Career
Johnson was troubled by injury in 2000 but still made the final at the 2000 Summer Olympics in Sydney Australia just missing out on adding to his medal collection by finishing fourth.
2003 in the State de France, saw Johnson win his fourth IAAF World Championships in Athletics 110 m hurdles title when he beat Terrence Trammell into second to overtake the three world championship gold medals that Greg Foster had won at the event.
At the 2004 Summer Olympics he tripped over a hurdle in the 2nd preliminary round and was unable to finish the race and reach the final. He was however ranked world's number 1 throughout 2004's season.
Johnson is trained by Curtis Frye, at the University of South California where he serves as a volunteer assistant coach. He resides in Irmo, South California.
His personal best is 12.92 seconds, only 0.01 seconds short of the then-world record held by Colin Jackson. Johnson has legally finished 11 races in less than 13 seconds, more than anyone else so far. Johnson officially retired in July 2010, at the age of 39.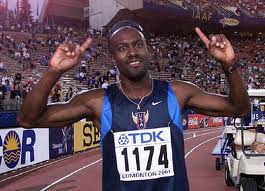 Achievements
(110 Meter Hurdles unless stated)
*1994 IAAF World Cup- London, England
*1995 World Championships in Athletics- Gothenburg, Sweden
*1995 IAAF World Indoor Championships – Barcelona, Spain
*1996 Summer Olympics- Atlanta, Georgia
Gold, Olympic record
*1997 World Championships in Athletics – Athens, Greece
1998
2000
2001
2002
2003
2004
2005