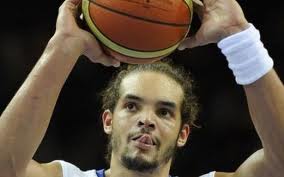 Joakim Simon Noah is born in February 25, 1985.
He  is a professional basketball player for the Chicago Bulls of the National Basketball Association (NBA).
Born in New York City to a Swedish mother and a French father of Cameroonian descent, he holds American, Swedish and French citizenship.
He played college basketball for the University of Florida, and was a key member of the Florida Gators' starting five that won two consecutive NCAA Men's division I Basketball Tournaments in 2006 and2007.
Joakim was drafted 9th overall in the 2007 pro basketball draft and quickly became one of the young cornerstones of his franchise. Over the last three years Joakim has solidified his position as one of the premier centers in the league on the strength of his athleticism and high-energy style of play, with a reputation as a physical presence who comes through in the clutch.
Joakim has been using BSN products for some time now to strengthen his naturally athletic physique, and his outstanding success on the court and charismatic personality make him a perfect ambassador for the BSN® brand.
Early life
Noah was born in New York City in 1985 to French singer and former professional tennis player Yannick Noah, andCécilia Rodhe, Miss Sweden 1978. His paternal grandfather Zacharie Noah was a Cameroonian professional soccer player, winner of the Coupe de France in 1961. Noah lived in Paris, France from 1988 to 1998 and returned to New York City at age 13.
He competed on basketball teams at several high schools: theUnited Nations International School, Poly Prep, and The Lawrenceville School.
Professional career
Early career
The Chicago Bulls selected Noah as the ninth overall pick inthe 227 NBA Draft. Noah and his teammates at Florida Corey Brewer and Al Horford, became the highest picked trio from the same college in the history of the NBA. Horford was chosen third overall by the Atlanta Hawks, and Brewer was chosen seventh overall by the Minnesota Timberwolves. On November 6, 2007, Noah made his regular season debut off the bench after missing the first three games with a sprained ankle. He posted 2 points and 4 rebounds. Noah averaged 6.7 points and 7.6 rebounds per game during the 2008–09 regular season.
Noah blocking a shot against the Washington Wizards.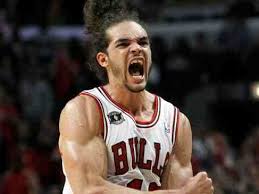 Noah played a key role in game 6 of the 2009 Eastern Conference first round playoff series between the Bulls and the Boston Celtics. In the final minute of the game's third overtime period, with the score tied at 123–123, he stole the ball from Paul Pierce and dribbled down the court (unusual for a center) for a dunk, drawing Pierce's sixth foul in the process. The Bulls went on to win the game 128–127, though they would lose the series in Game 7.
2009–10 season
During the 2009–10 season, Noah averaged 10.7 points and 11.0 rebounds per game. He only played 64 games due to injury, though. The Bulls once again made the playoffs securing the 8th seed in the Eastern Conference. In the playoffs, Noah averaged 14.8 points per game and 13.0 rebounds, but the Bulls lost to the Cleveland Cavaliers in the first round in five games.
2010–11 season
On October 4, 2010, Noah signed a five-year, $60 million contract extension with the Bulls. On December 15, 2010, the Bulls announced that due to ligament damage in Noah's hand, he would have surgery and miss 8 to 10 weeks. Noah was averaging 14 points and 11.7 rebounds in the 24 games prior to his injury. He returned to action in the 55th game of the season on February 23 after recuperating from right thumb surgery. He scored 7 points and had 16 rebounds in just over 24 minutes. He returned to the inactive list for games 74, 75 and 76.
2011–12 season
On February 22, 2012, Noah recorded his first career triple-double with 13 points, 13 rebounds, and 10 assists in a game against theMilwaukee Bucks. It was the first triple-double by a Bulls center since Artis Gilmore recorded one in 1977.
2012–13 season
On December 7, 2012, Noah recorded his career highs of 30 points and 23 rebounds in a win against the Detroit  Pistons.On December 18, 2012, he recorded his second ever triple-double, scoring 11 points, grabbing 13 rebounds and providing a career high-tying 10 assists, in a 100-89 victory over the Boston Celtics.On January 24, 2013 Noah was named as a reserve in the 2013 NBA All-Star Game, representing the Chicago Bulls alongside teammate Luol Deng. He played 16 minutes in the game, scoring 8 points and collecting 10 rebounds in the East's loss. On February 28, 2013, Noah recorded his third career triple-double, scoring 23 points, collecting 21 rebounds and making a career high 11 blocks in Chicago's 93-82 victory over the Philadelphia 76ers.
International play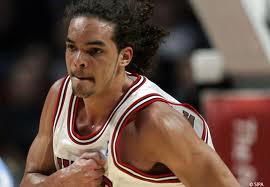 Noah plays for the French national basketball team, although he also could have been eligible for the American or Swedish team.
"The French National team is definitely something that has been in my dreams for a while," he said.
He was officially made a French citizen on April 11, 2007. Noah speaks fluent French.
Noah made his first appearance for the French national basketball team on July 24, 2009 in a friendly match against Austria where he scored 16 points with 9 rebounds.
Noah then joined the French team at EuroBasket 2011.
He did not join the French Olympic team for the 2012 Olympic Games in London because of a serious ankle injury that he suffered during the 2012 NBA playoffs. Noah said that he needed more time and rehabilitation work before he would be ready to play again.
Player profile
Noah is known for his high energy play especially on the defensive end. He is a tenacious rebounder on both ends of the floor and is a capable ball-handler and passer at the center position. His unorthodox shooting style has been the subject of much criticism. However, Noah has improved his free throw shooting and is an effective finisher close to the basket.
Personal life
On May 25, 2008, Noah was arrested for having an open container of alcohol and misdemeanor possession of marijuana in Gainesville, Florida. A few hours later, Noah was also cited for driving with a suspended license and not wearing a seat belt. He was sentenced to six months probation, a $200 fine for the marijuana and open container charges, and a $206 traffic fine.
Noah divides his time between Chicago and Florida during the off-season.
With his mother, Noah runs the Noah's Arc Foundation.
Awards
NCAA
2006 Associated Press (AP) All-SEC First Team
Named an Honorable Mention All-American by AP.
Most Outstanding Player in the 2006 Final Four
NCAA Men's Division 1 basketball champion – 2006,2007
NBA
2011 NBA All-Defensive Second Team
2013 NBA All-Star
Sponsorship
Joakim Noah is sponsored by Le Coq Sportif and currently wears their basketball shoes. Noah is also sponsored by the BSN supplement brand.
Read also:
http://en.africatopsports.com/2013/03/01/basketball-joakim-noah-vs-philadelphia-video/
http://en.africatopsports.com/2013/02/18/nbaall-star-game-i-enjoyed-every-minutes-noah/
Here are the videos:
http://www.youtube.com/watch?v=U1Q7HG419yQ
http://www.youtube.com/watch?v=wwITvi6tOYE