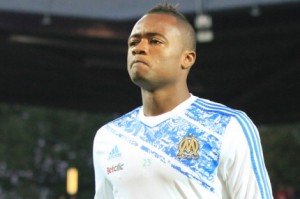 OM striker Jordan Ayew became famous on Twitter after the match against PSG for the eighth spot in the Coupe de France.
The young Ghanaian has not scored a goal, wasn't the man of the match, but made about him by his altercation with the England star David Beckham.
After his tacle over the PSG midfielder, Jordan sent a blow on the favorite Parisians player. The two players each took a yellow card.
The war continues on twitter
A hashtag (# JordanAyewFacts) specially created with the name of Jordan Ayew served Internet users to ridicule the Ghanaian player of  Om, lack of concentration in recent times. We offer some of these tweets unsympathetic. A strong message to all those who have the bad idea to take David Beckham.
"None of your #JordanAyewFacts can offend Jordan Ayew, he even can not read."
"Jordan Ayew is so stupid as when Romao has signed at OM, he asked if Juliet was also coming"