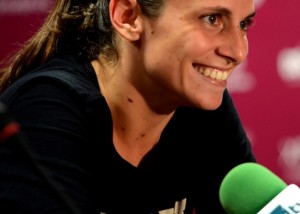 After years of struggles Olga Puchkova is hitting her stride on the WTA again, those big groundstroke's in full flight – and next to battle in the WTA Brasil T ennis Cup semifinals is Venus Williams.
Olga Puchkova who was once one of the WTA's most promising rising stars has had some struggles over the years – but she has been enjoying resurgence in recent months and on Thursday the big groundstroke's were in full flight as she made the WTA Brasil Tennis Cup semifinals.
in 2006, Puchkova as a teenager had an absolute breakthrough fall season going 15-5 between the US Open and the end of the year and reaching the quarterfinals or better five times – including her first two WTA finals at Kolkata and Québec City. She would go as high as No.32 in the world during 2007.
"It was really cool. I remember at the end of the year I got to a lot of quarterfinals and semifinals, and like two or three WTA finals," Puchkova reminisced. "I don't remember too much about it, but they were a lot of good weeks there. And eventually it took me to almost No.30 in the world or something."
But by the end of 2007 she had fallen down to No.86, and she finished outside the Top 150 the next four years straight. "After the 2006 results I was pretty tired – it was such a busy schedule. Then my dad got sick with cancer. And he wasn't just my dad; he was my coach too, so it was difficult to cope with that. And I had some difficulties too – I took almost a year off because I had some injuries."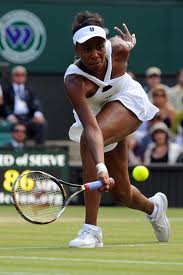 "I'm feeling good again and more importantly my dad is better now, so it's like a full recovery. My dad's my coach again. Of course it can be difficult to have your dad as your coach sometimes, but it's also fun, and we don't live together – we have our separate places and get together when we travel."
With injuries in her past and her lethal groundstrokes in full swing, Puchkova stormed into the semis in Florianopolis on Thursday, breaking Jana Cepelova seven times en route to a commanding 61 61 win.
"My opponent was playing well and was in control of the first set, but I have experience in those situations and I just kept trying to do the best I could," Williams said. "I realized the score was 4-2 for her, but I just kept trying to improve my game – just kept trying to do the best I could out there."
Williams and Puchkova will be playing each other for the first time, but they have met before.
[youtube]http://www.youtube.com/watch?v=bMo6SvLeGfA&feature=player_embedded[/youtube]
[youtube]http://www.youtube.com/watch?v=15cVr658MRc&feature=player_embedded[/youtube]
Read also:
http://en.africatopsports.com/2013/03/01/tennis-focus-on-the-two-williams-serena-and-venus/