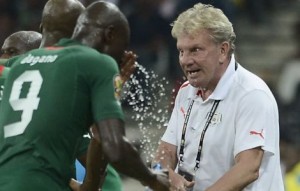 What a story! The selection of Burkina Faso after an exceptional 2013 AFCON – after the defeat against Nigeria, through a serious crisis. As Africa Top Sports.com reported this week, Sidi Napon is no longer the assistant coach of the national team of Burkina Faso.
Gualbert Kabore also is no longer the general manager. They were thanked February 27, 2013 in Ouagadougou, as confirmed by the president of the Burkinabe Football Federation (FBF), Sita Sangare.
Sita Sangare returned to the tensions between the head coach, the Belgian Paul Put and his assistant: "It was no longer a secret that the cloth was burning between the two coaches. We even work hard so that the team can go in a peaceful environment in the African Cup of Nations (AFCON) in South Africa. This situation can not last forever. "
The assistant coach has the reins of the national junior team. "Napon Sidi, who is currently in France, now cares of the Junior Stallions"
The President also mentioned the case Gualbert Kabore, who was the general manager of the Stallions "When we left the presidency of Burkina Faso to meet the Head of State, I wanted to convey a message to the players. To do that, I needed to speak to the general manager of the team. But to my surprise I learned that he had not come. That is where I learned that he was complaining because the players was decorated without thinking about him (…) The Burkinabe is humble nature and we can not tolerate certain behaviors ".
Despite the crisis, the President of the Federation recalls the challenge ahead of Paul Put: "The coach made a surprise by bringing the team in finals of the AFCON 2013 and we hope he will brings us to the World cup for the first time in our history "