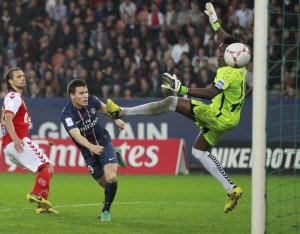 Kossi Agassa and Reims clash Paris Saint-Germain this Saturday at 16h GMT. The guard who had thwarted the stars of PSG in the first leg before losing on a goal by Kevin Gameiro (photo) knows he will have a tough task tonight. Moreover, it is not any newcomer English scares him.
"They have more money than us. And like everyone else, I heard the price of the hotel room Beckham. But it will be on a lawn, not in a nice hotel room. On land, we all have crampons … "
Kossi Agassa told Le Parisien.