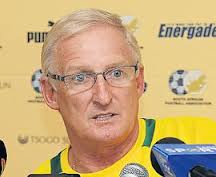 South Africa coach Gordon Igesund says there will be no room for errors when his side resumes their qualification campaign for the 2014 World Cup.
Bafana Bafana face the Central Africa Republic in Cape Town on 23 March knowing only a win will do as they sit third in Group A after draws with Ethiopia and Botswana last year.
And Igesund revealed there will be changes to the team that reached the quarter-finals of last month's Africa Cup of Nations on home soil
Continue reading the main story
    "There are no other thoughts other than winning because we are all aware that a draw will not help our cause"
Gordon Igesund
"We are not in a good position in the qualifiers," he admitted. "We have dropped four huge points and are left with four games, so we are basically playing catch-up. We are in a situation where we almost have to win every game.
"Qualifying for the World Cup is huge for us, so we can't afford to lose, that is the bottom line.
"There will be a couple of changes – the team will be a lot more offensive. There are a few areas that we need to fix.
"There are a few players that are coming back from injury that I need to have a good look at over the next couple of days like Morgan Gould, Ayanda Xulu, Bevan Fransman and Daylon Claasen."
Ethiopia sit top of the group, with second-placed CAR one point ahead of South Africa and Botswana bottom of the table with one point.
With only the top two teams in the group guaranteed a place in the second round in the quest to qualify for the tournament in
Brazil, Igesund knows it is vital that South Africa make up ground on CAR.
"It is very important because at the moment CAR are above us on the standings, and we need to beat them to overtake them," said the 56-year-old.
"Should we achieve that, then psychologically we have achieved something and then we can get the momentum going.
"That is why I say there are no other thoughts other than winning because we are all aware that a draw will not help our cause. And sometimes when you go out knowing what you have to do, it becomes a little bit easier because the players know we have to win."
Igesund's preparations for the game against CAR were disrupted when he was admitted to hospital and had an operation to remove his appendix but he says he is "fully recovered" and ready for the task ahead.
"When I was in hospital, my technical team sent me reports about players and matches and now that I am out of hospital I am also watching the matches again," he said.
"We have to pick a team that has to perform and hopefully that will see us qualify for the World Cup. Now it is just a matter of picking the team that will play this one particular match and get the three points."
Source: BBC
Read also:
http://en.africatopsports.com/2013/01/25/afcon-2013-dont-be-carried-away-igesund/